How to Prepare for Chinese New Year Celebrations 2022
by
Coco Veda Team
January 19, 2022
Chinese New Year is one of the festive seasons that is widely celebrated in Singapore. Lights glimmer along the roadside and decorations fill up houses and public places. During this period, a lot of shopping malls also have mega sales and you would need to arrange your shopping trip days before Chinese New Year as it can get overwhelming to squeeze through the crowd. We see a lot of red decorations and people buying festive snacks, but what is the list of things to prepare for Chinese New Year?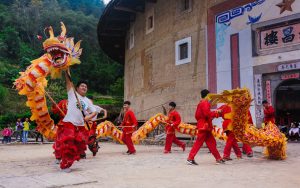 The Little Year
(小年 / xiǎo nián)
When do people start preparing for Chinese New Year? It can vary for different places but generally, people start their preparations on "The Little Year" (小年 / xiǎo nián). In northern China, this happens on the 23rd day of the twelfth lunar month, and in most parts of southern China it happens on the 24th day of the twelfth lunar month. On this day, people start to prepare goods, clean their houses and all the other Chinese New Year preparations.

Spring Cleaning
Spring Cleaning is one of the major practices done to prepare for the Chinese New Year. The act of cleaning your house symbolizes getting rid of the old and welcoming the new for a fresh start for the year ahead. This is not just a regular house-cleaning, families usually deep clean their house by washing various appliances, disassembling and washing curtains and bedding, wiping windows and washing the floor. There are also specific auspicious dates to carry out spring cleaning based on your zodiac sign. It is deemed to be inauspicious to carry this out during the first to fifth day of the first lunar month.

Shopping for the Chinese New Year
It is tradition to buy New Year's Food and snacks, New Year's decorations, fireworks and New Year's clothes before Chinese New Year's Eve. It is believed that wearing new clothes from head to toe symbolizes a new start and fresh hopes for the New Year. There are also traditional clothing that some families wear such as the qipao or Tangzhuang. Other than that, people usually wear other brightly-colored clothes on New Year's Day. Red is the color that is commonly worn during the festive season as it is China's good luck color and is believed to scare away spirits of bad fortune.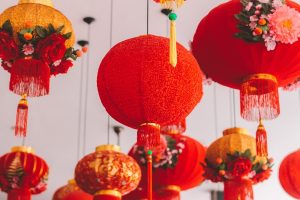 Putting up Chinese New Year Decorations
Most people usually put up their decorations on Chinese New Year's Eve. Houses are decorated with red lanterns, red spring couplets, paper cuttings, and New Year's paintings. These decorations are believed to keep evil away and are prayers for blessing, longevity, health and peace. Since 2022 is the Year of the Tiger, we can expect more tiger images appearing on this year's decorations.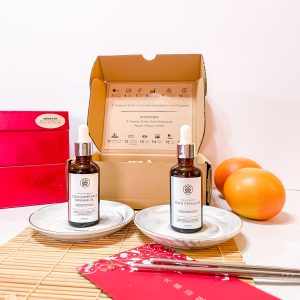 This year, Coco Veda is sending our well wishes to everyone celebrating Chinese New Year. We have released a 养身之宝包 – Wellness Bundle to welcome good health and wellness for the year to come. This bundle includes 2 wellness oils of your choice. This is the perfect gift to give your loved ones during this festive season. It is useful for everyone as our wellness oils solve 21st century problems that can range from stiff necks to relief oils for stress, anxiety or depression.
We hope everyone will have a joyful and safe celebration with their family and friends this Chinese New Year. Let us remember to be responsible since we are still in the midst of a pandemic. This bundle will also be perfect to send well wishes of good health as we have fought through a virus that has been endangering our health for the past 2 years.